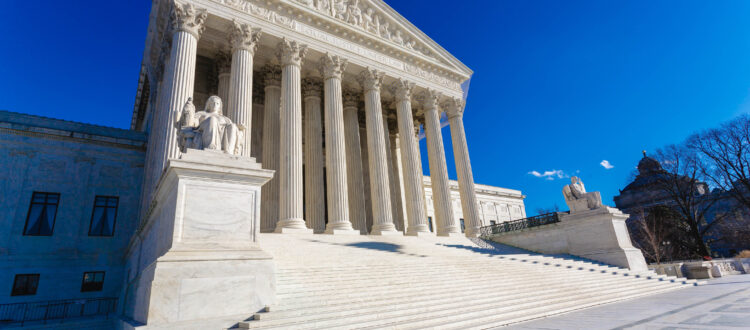 U.S. Supreme Court Justices Attack the Constitutional Right to Marry
This past week U.S. Supreme Court Justices Clarence Thomas and Samuel Alito issued a joint statement that blasted the legal reasoning behind the 2015 decision of Obergefell v. Hodges, the case which declared that same-sex couples have a constitutional right to marry under the 14th Amendment guarantee to equal protection of the law.
This joint statement was made in the context of the Supreme Court's decision not to hear a case brought by a former Kentucky county clerk who refused to issue a marriage license to a same-sex couple. Although both Thomas and Alito agreed with the other justices to decline the case, they used this as an opportunity to attack Obergefell, stating that the Kentucky county clerk, "may have been one of the first victims of this Court's cavalier treatment of religion in its Obergefell decision, but she will not be the last." This is consistent with their dissent to the decision of the majority of the Court in Obergefell.
Thomas stated that, had same-sex marriage had been adopted under state law, it would have undergone the "proper" democratic process and allowed for accommodations of those who's religious beliefs hold that "marriage is a sacred institution between one man and one woman." However, by choosing to uphold same-sex marriage as a constitutional right, the Court chose to  "privilege a novel constitutional right over the religious liberty interests explicitly protected in the First Amendment, and by doing so undemocratically, the Court has created a problem that only it can fix. Until then, Obergefell will continue to have "ruinous consequences for religious liberty."
Marriage equality remains the law of the land. However, it is concerning that two Supreme Court Justices have expressed a sentiment to overturn or chip away at the Obergefell decision, especially with the pending nomination of Amy Coney Barrett to replace Justice Ginsburg.
In light of this statement, many are inquiring about how they may best protect their families. Although there is no need to panic, there are a few legal steps that you should consider:
Obtain Legal Confirmation of Parental Rights: Jerner Law Group, P.C. continues to strongly recommend that all nonbiological or nonadoptive parents confirm their legal rights to their children through step-parent adoptions. Even if a child's birth certificate lists a nonbiological or nonadoptive parent as a parent, you should never rely on a birth certificate alone to confer parental rights. A birth certificate is an administrative record and not a legal determination of parentage. An adoption ensures that parental rights are confirmed, respected, and protected in all U.S. states. Additionally, an adoption ensures that federal benefits, such as Social Security, will be given to a child based on their relationship with their nonbiological or nonadoptive parent, if other conditions of eligibility are met.  
Jerner Law Group, P.C. is offering free telephone consultations for second-parent and step-parent adoptions for New Jersey and Pennsylvania residents. Call us at 215-843-6000 or email us at info@JernerLaw.com to schedule a consultation.
Prepare or Update Estate Planning Documents: Every adult should have a Will, a General Durable Power of Attorney and a Health Care Power of Attorney with Living Will (also called a Combined Advance Directive). Parents of minor children may want to have Standby Guardianship Designations. We also recommend that people confirm that their beneficiary designations for non-probate assets such as retirement accounts and life insurance policies are correct and that they update their beneficiary designations if needed. 
If you need assistance with preparing or updating your estate planning documents, please call us at 215-843-6000 or email us at info@JernerLaw.com to find out about these services.