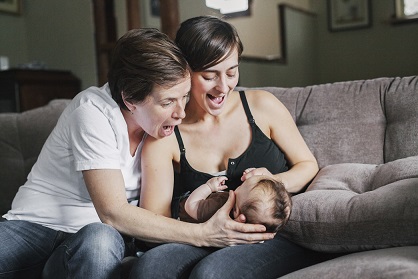 New Law in New Jersey Simplifies Confirmatory Adoptions
Some Good News! Adoptions in New Jersey just got easier and less expensive for many parents who created their families used using Assisted Reproduction Technology. Last week, the New Jersey law simplifying confirmatory adoptions for parents who are not genetically related to their children conceived through assisted reproduction went into effect.
Previously, a spouse or partner in a marriage or civil union who was not genetically related to the child, or who did not gestate the child born to the couple through assisted reproduction, was required to go through a more lengthy and expensive adoption process in order to confirm legal parentage.
Who does the law apply to? Couples who are married or in a civil union who have used assisted reproduction to create their family. Surrogacy, however, is governed by New Jersey Gestational Carrier Agreement Act.
What does this law do? This law streamlines the adoption process by removing the requirement for numerous background checks and the requirement that parties appear in court for the adoption finalization.
Why is adoption important? The New Jersey Supreme Court held in the case of T.J.S. that there are only three ways one can be a legal, recognized parent:
(1) gestate the child,
(2) provide genetic material, or
(3) obtain an adoption or parentage order. 
While New Jersey, in many cases, also recognizes the parentage of a non-genetic parent based on the marital presumption – the presumption that a child born during a marriage is the child of both spouses – an adoption ensures that parental rights are protected if you move out of state and when you travel. Every state must recognize an adoption decree. It is also important to ensure federal benefits will be given to a child based on their relationship with their non-genetic or non-gestational parent. A birth certificate alone does not determine legal parentage. 
What should I do if I think this law may apply to me? If you are a resident of New Jersey who is not genetically related to your child and you have not already confirmed your legal parentage through an adoption, you should reach out to an attorney with experience in adoption and assisted reproductive technology law.
Jerner Law Group, P.C. is now offering free telephone consultations for second parent/stepparent confirmatory adoptions for both New Jersey and Pennsylvania residents. Based on the new law that simplifies these adoptions in New Jersey, we are now able to provide this service in New Jersey at a reduced cost.
Contact us at info@jernerlaw.com.